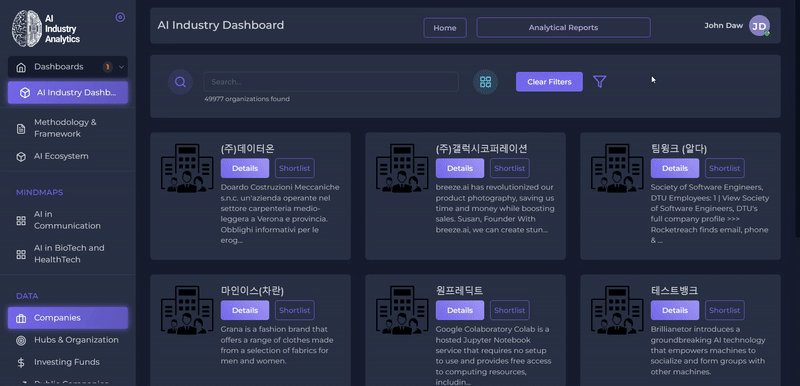 AI Companies Database
Access the comprehensive database of AI startups and scaleups across the globe. Leverage advanced filtering options to get the full scope of data you need.
Investors Database
Get a comprehensive set of data about investors aggregated from numerous data sources.
View the portfolio structure of every investor in the database

Map the network of investors operating globally

Conduct effective market intelligence on investor's activities to make vetted decisions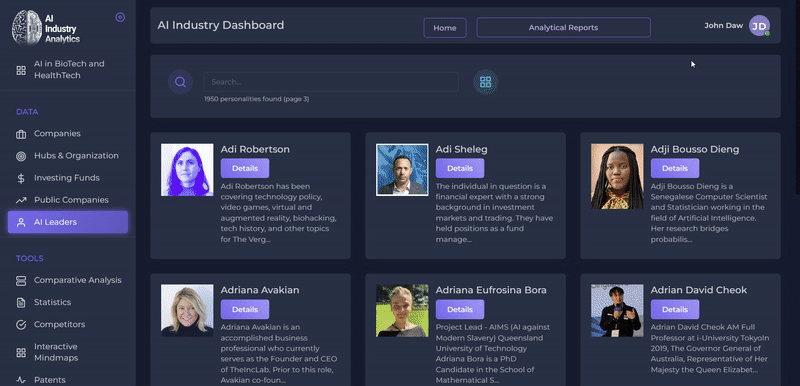 AI Leaders Database
See all the AI Leaders in one place. Search the information by their names or explore the catalogue of their job positions and companies they work for. You can click on the leader's name for the AI leader profile details and pin the person to your watchlist.
AI Hubs and R&D Centers Database
See all the information on research and development (R&D) centers, labs, and hubs that focus on AI worldwide. The database aims to provide a comprehensive overview of the global AI research landscape and serves as a valuable resource for researchers and professionals interested in AI.
Public Companies Database
Explore AI Industry public companies by sector using measurable metrics and filters, such as total funding and revenue, for thorough investigation. The database helps to navigate and investigate the publicly traded businesses in space.
AI-Driven Analytical Tools
AI-driven Analytical Tools can be leveraged by AI startups and investors interested in AI Industry.
Investors analytical tool allows investors find their peers for portfolio comparison, as well as new co-investors for investment syndicates.

Companies can leverage these tools for expansion of their investors universe, looking for investors who are interested in the similar companies.